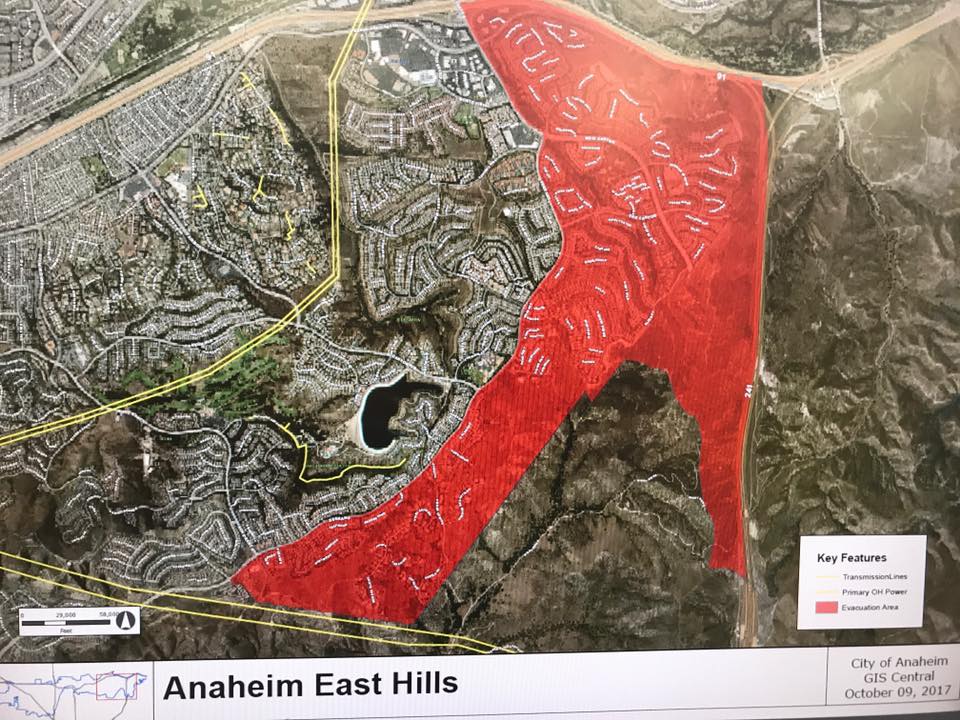 I'm thanking my lucky stars, and praising God that my home is intact. You may have read or seen clips on TV about the fires here in California. The Northern California fires have been far worse (homes, shopping centers and many people still missing and many lost) than our one here in Southern California, but devastating nonetheless. I was evacuated on Monday. They finally lifted it last night (Tuesday). I actually returned home late Monday night because I felt safe enough to return, although technically I was in a mandatory evacuation area. The road I used to get home wasn't blocked off as many others were. I live south of that red blob above and as the fires spread, destroying homes and stables and outbuildings in an area called Orange Park Acres, they extended the evacuation zone, and I was in it. I grabbed a few things: 3 of my paintings, some valuables, my kitty, some clothes, my favorite pillow, medications, passport, cat food, litter box, kitty's favorite blanket and went to stay with my daughter-in-law's sister and her husband, who live about 15 miles away, south and west, far from the smoke and raging fire.
I stayed put at home yesterday, all day, watching news reports and refreshing the online fire map on my computer. If I'd left, I wouldn't have been allowed back to my house. This fire spread so fast, they couldn't update the maps fast enough. Dozens of my friends were evacuated also, and they'd spread far and wide to friends so they didn't have to go to a shelter. High praise goes to all the firefighters who risked their lives to save homes. I think I heard that only 8 homes were totally destroyed, but hundreds are damaged and partially burned. The fire started up at the top right corner of that red zone (cause unknown at this point). It was a hot day, we had Santa Ana winds (high winds that blow in from the desert), the temperature was in the low 90's, and the humidity was under 10% – prime conditions for a brush fire, perhaps from a thrown cigarette butt, since the origin was just beside a freeway, a main east/west artery in our region. The fire is still raging, but it's going east, into the Cleveland National Forest, off to the right of that red blob. A favorite wilderness park was totally destroyed, along the eastern edge of the red blob. It's a favorite for hikers and walkers. There is still residual smoke in the air
So, I lost more than a day in my quest to put away stuff from my termite tenting. I'm going to get on that today, I hope. But I'm feeling quite overwhelmed, actually with that task. And to make matters worse, my hot water heater that supplies hot water to my kitchen, has died. My plumber is going to install a small tankless one, but not until next week. Sigh. So I'm keeping my electric tea kettle going as I need to do dishes. Paper plates are the name of the game this week.
Thankfully, I'm fine, and my house is fine. My kitty still feels a bit discombobulated, though, as he's "off" his food a bit and wants more attention than usual. But we're alive and well, all things considered.